For many of you buying your first SCUBA set is a big step in committing to the sport of SCUBA diving. Your purchase will give you the freedom to dive when it suits and means that you don't have to conform to the Dive HQ Christchurch shop hours.
Once you are using your equipment you want to make sure you get years of enjoyment and use out of it without any maintenance issues apart from your annual regulator service.
Below are a few tips that can help you pro-long the life of your equipment.
It is essential that you keep it properly maintained. Please follow these pre- and post-dive steps to keep your regulator set in top notch working condition.
Pre-dive
It is a good common practice to connect your regulator set to a cylinder when getting your equipment ready for a dive trip. Breathe from the regulator second stage and take a few breaths from the octopus. Check your SPG is functioning and giving an accurate reading.
While your regulator set is still on the cylinder listen for any air escaping and check second stages are not free flowing.
Visually inspect all your regulator hoses looking for cracks, check your second stage mouth pieces, making sure there are no holes or tears and look for corrosion on your metal components. Don't forget to slide down any hose protectors you have fitted when checking hoses.
Any cracks in your hoses or obvious corrosion on your regulator's components will require a service. Time to bring your regulator set into Andy for a service.
Turn your cylinder off and purge any air in your regulator set. Inhale through both second stages (primary and octi) to hold a vacuum. Each regulator second stage should let in either a very tiny trickle of air or no air at all.
Post-dive
Before rinsing your regulator, make sure the first stage dust cover/witches cap is in place. When rinsing do not purge the second stage valves.
After dunking the entire octopus, rinse your second stages by running warm water through the regulator mouthpiece and out the exhaust diaphragm.
Rinse the fitting that connects to your low-pressure inflator by working the slip coupling back and forth while holding it under warm running water.
Once regulator set is dry either hang up or pack away in your gear bag.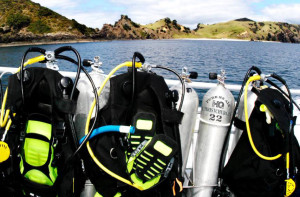 If you are looking for a new regulator or octi regulator check out what we have for you?