As winter draws nearer, it is time to start preparing for the cold. Bring out the woolly jumpers, stock up on hot chocolate, (and don't forget the whisky!) Shorter days, chilly weather, and cooler waters are no reasons to stop you from diving – so long as you know how to keep warm.
It is important to remember that you lose heat 20 times faster in the water compared to on land. Although 16°C may feel comfortable when you are dry, you will quickly feel the cold on a dive.
So how should you keep warm this winter? Here are a few pointers to keep you diving throughout the upcoming months: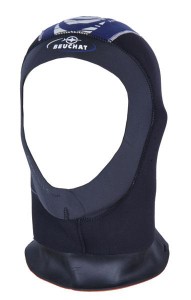 Keep your head covered:
Your head is one of your main points of heat loss; in the same way you would wear a hat and scarf when it is cold, wear a hood when diving! With 20 to 40% of heat lost from your head, keeping it covered makes a significant amount of difference when trying to stay warm. If your wetsuit doesn't have an integrated hood, you can buy them independently (we stock several different models here at Dive HQ Christchurch).
I know that the idea of a hood can be off-putting, and is disliked by many, but there are simple steps to follow to avoid discomfort:
Keep your hood down and your wetsuit slightly unzipped until you are ready to enter the water
If you have a separate hood, put it on at the last minute
Remove your hood during the surface interval, dry your head off, and if possible put a dry hat on
Layer up:
So you have a 7mm wetsuit to keep you nice and warm, yet the chill is still getting through… Why not add a layer under your suit? The same goes for a drysuit. There is nothing to stop you wearing thermals or a sharkskin under your suit.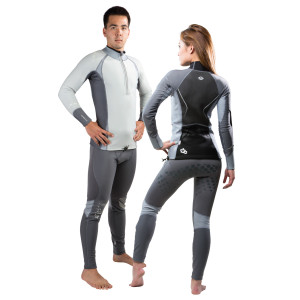 A great option is Oceanic's Lavacore range. An awesome selection of thermals: tops – hooded or not, vests, shorts, pants, suits, caps, gloves… Why not try out the Elite merino lined range to guarantee warmth and comfort this winter! Not only are these great under your wetsuit or drysuit, you can use them for many other activities too. Wear them kayaking, sailing, skiing, surfing… a purchase you definitely will not regret! Pop into Dive HQ at 103 Durham St South to find the perfect Lavacore for you. We are continuing to sell all Lavacore at their sale prices. 25% off the standard range, and 30% off the elite range! 
Toasty toes:
No doubt about it, as the temperature drops you become more reluctant to don a wetsuit and take the plunge. There is nothing worse than frozen fingers and toes (ok, I exaggerate – they won't quite freeze). Want some tricks of the trade on how to keep your extremities warm? You've come to the right place. You will already have gloves and boots, but are you wearing anything under them? No? Well you should be! Buy some disposable latex gloves to wear under your neoprene gloves – the trapped air will help keep you warm! Wear a pair of non-cotton socks inside your boots to keep those little piggies toasty warm even on the coldest of days.
Dry suit diving:
Opt for the warmest option of them all! Come and talk to us about our drysuit range. We can help you find the perfect drysuit for you, and talk you through the advantages of owning one, as well as taking you on a drysuit orientation dive.
Prepare for your surface interval:
If you are doing multiple dives, you want to make sure you have everything you need for your surface interval. Have a flask of something hot ready – tea, coffee, soup is a great one, and something warm to put on. Having a windproof jacket to hand is a good idea, as you can pull it on even over a wetsuit and escape from the chilly breeze.
Just remember not to rush your surface interval in your eagerness to return to the water on cold days! Safety first!
Take a break: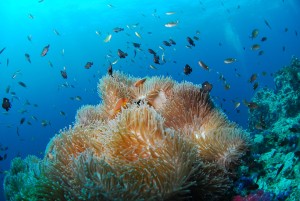 If it all gets a bit too much and you need to escape to the sunshine and do some diving in more temperate waters, get in touch with us about our upcoming trips. We are off to the Solomon's in June, and Fiji in August. Feel free to ring or email us for more information!
Come and see us at Dive HQ for more tips and pointers on staying warm to keep you diving this winter!