Beuchat is a brand which lives and breathes its passion for the sea and whose history is intertwined with that of spearfishing. Through its innovations, it has made a major contribution to the birth and development of spearfishing. Beuchat's latest development and innovation is the Trigocamo camouflage wetsuit with the new Braca Concept.  Beuchat are the first to break new ground creating a camouflage comprised of actual photographs assembled in 3D using trigometric calculation software.
How was this done?  An area of the seabed was selected and was scanned by rail-mounted cameras that take a series of photographs. Around fifty photos were selected to be assembled by computer using trigonometric software which digitalised the images in 3 dimension.
From these visuals, Beuchat extracted the images to be printed on the Beuchat Trigocamo fabric.  As a result each element in the camouflage is authentic and no two are the same. No two rocks are repeated. This means that each suit is unique. This video explains the process and shows you the Rocksea in action!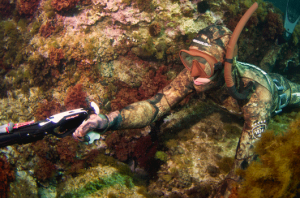 This innovation and development means that the Beuchat Rocksea range of suits all have the Trigocamo innovation making it the first of its kind-  an exclusive three-dimensional camouflage suit.
Using soft neoprene Elaskin X 8.6 which combines maximum comfort and durability with open cell interior for maximum warmth.  Ergonomically cut for maximum comfort, with special contours on the rear of the suit to avoid pockets developing on the back and between the shoulders. A 360deg one-piece face seal for water tightness and durability, matching neoprene hems on the wrists, ankles and face, and a Lycra hem on the jacket. Elbows and knees are reinforced with anti-abrasion Supratex. Camouflaged padded stemal reinforcement gives the wearer greater stability and comfort when carrying long and powerful weapons.
Not stopping at the camouflage as a new innovation, Beuchat have continued the development and come up with the Braca Concept. What is this you may ask?
The Braca concept is a new patent from Beuchat revolutionising spearfishing apparel. They have invented a simple, effective, hygienic and invisible solution to the problem of how to pass water without removing your suit. This is called the Braca concept.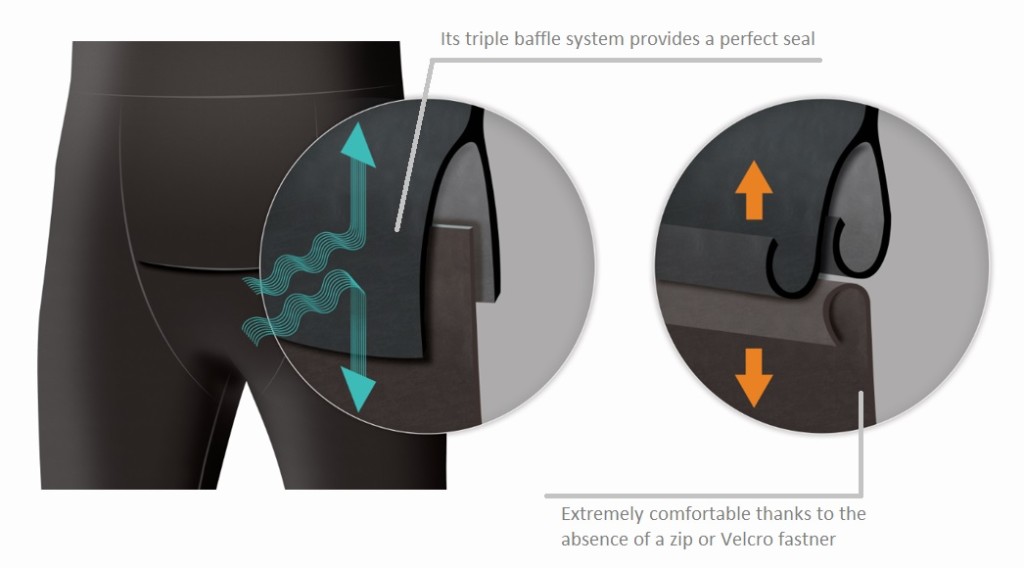 It's a triple baffle system that provides a perfect seal and is extremely comfortable thanks to the absence of a zip or Velcro. It offers a fly opening system that is simple to use and hygienic as well as discreet.
Pierre Roy and international spear fisher was one of the testers of Braca Concept. Pierre said using the traditional squeeze bottle which he had been using for over 15 years, had the disadvantage of being uncomfortable and not at all discreet when nature calls. Using the Braca Concept is different, and when he used the system for the first time while on a hunting dive with friends they did not even notice that his suit had a new system. Pierre showed them the new system but they were sceptical that it was not waterproof. So to prove it to them that there is no sealing problem he jumped into the water several times and showed them that not a drop of water seeped inside.  
In 1953 Beuchat developed the wetsuit for the spear fisherman. This now made spear fishers more comfortable and protected so that they could enjoy their passion. Beuchat continues to be leaders in innovation and development worldwide. Safety, reliability, and durability are at the heart of Beuchat's research and this is reflected in these latest innovations. The Trigocamo camouflage wetsuit with the Braco Concept is definitely part of this revolution.
If you are into spearfishing, or wish to get started, check out our Spearfishing Page here!
Article by:  Dive NZ
Store Hours:  Monday to Saturday 8.30am – 5pm
Dive HQ Christchurch
103 Durham St South
Sydenham
Christchurch
03 379 5804
www.diveskiworld.co.nz