To all outdoor adventure enthusiasts (and divers), 2016 is going to be the year where the action camera market will reach greater heights. Of course we all know that "Gopro" is the first camera we think of when it comes to action and sport cameras, but how long will Gopro make its stand as the best action camera in the market? Will they still continue making their action camera the top of the line, or will they end up like Kodak? Without further ado here are my top 5 action cameras for 2016!
5:  TomTom Bandit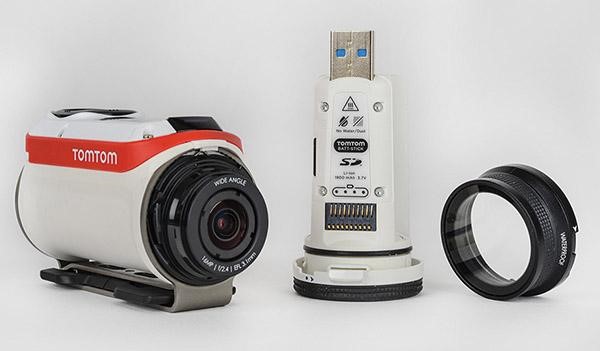 Taking more of a barrel design than the common box shaped design mimicked from a particular camera *COUGH COUGH GOPRO COUGH*, the bandit has a very unique arsenal. Sure 4K at 30fps does sound like the new norm at this point, and 16mp still images sounds cool and all, but a USB Battery and Memory Stick that can be used to upload videos to your computer and be charged at the same time? Absolutely genius. The "Batt-stick" is a USB and battery for the camera, and it can support a Micro SD Card, that once it's chipped in, there's no need for SD Card adapters/converters. In addition, the camera does come with Wi-Fi and a Gopro Mount Adapter to mount this camera to any convenient attachment you may find in retail. A separate accessory available for purchase is a special dive lens that will make the camera water proof to 50 metres. Read more about the TomTom Bandit, here.
4: Intova X2 and HD2
Going back to what Intova has previously done with their action cameras is very interesting, and makes them one of the best specifically for divers. They have the standard high definition of 1080p at 30(HD2)-60(X2) frames per second, can take 8mp(HD2)-16mp(X2) still photos, have an integrated LCD screen at the back to view images, but now also have a 150 lumen light built in, used to help improve photo and video quality when underwater. For me as an underwater photographer, I love the concept of an action camera with a built in flash, and these guys were the first to do it and are extending it further. Along with that, they are waterproof to 100m, have a removable battery that can be charged, built in Wi-Fi (for the X2) and require a Micro SD card up to 32GB(HD2)-64GB(X2).
3: Sony HDR AS50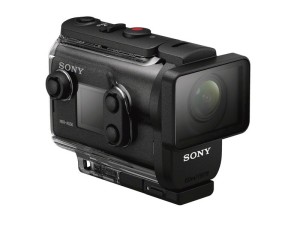 In my experience using the Sony HDR AS30V, right off the bat I can confidently say I love the built in stabilization that they offer, nothing can beat smooth video for an action camera that is facing the toughest conditions. However when it came to diving, I wished they created a more usable dive housing that you could take down to 40 meters or more and still have access to all the function. After talking to Sony about this – because they are very open to feedback – they have surprisingly answered my prayer for a better dive housing… and thus fourth the Sony AS50 was born. Unlike its predecessor, this action camera now shoots 4K at 30fps, this also includes 4K time lapses and the high definition we know and love, can shoot at 120fps meaning that you can film your subjects in slow motion at the highest definition. The camera has built in Wi-Fi that can be access via the Playmemories app, and it has GPS to show off where you have been diving and how deep you have been.
2: Nikon Keymission 360
Trying not to be fully biased between which one is better – Canon or Nikon – but in terms of Nikon's history, they had made the Nikonos series film cameras, that allowed photographer in the 1970s to photograph images underwater! Going to the modern era, they have created the AW130, which can go down 30m underwater with no dive housing and the AW1, which is the only mirrorless interchangeable lens camera that can go down 15m with no housing. Now this October, Nikon is introducing the new Keymission 360. As implied it is a 360 degree action camera, shooting at 4K with built in image stabilization. It too will be able to go to a depth of 30m with no additional housing and has built in Wi-Fi connection. At this stage I do not know what Canon will do to compete with that, but I will assume that they will make a "good" action camera and then slap their branding on it just so people will buy it. And I know, this made me sound very bias that Nikon is better than Canon… but now for the final action camera for this list. Find out more about the Keymission 360 here.
1: Olympus TG-Tracker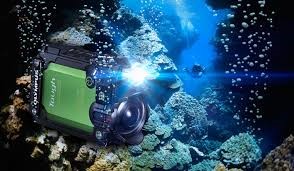 We have all heard and seen the Olympus Tough Series cameras and they are the best in terms of waterproof cameras, but their first action camera, the TG-Tracker may be the "badass" of action cameras! Slightly bulkier than any other camera in this list, it comes with a variety of gadgets on hand. A flip out LCD Screen, a 60 Lumen LED Light, Waterproof to 30m without a housing, and a GPS Tracker that can record your deepest dives much like a dive computer… Now that is what I call an action camera! Of course much like its competition, it shoots 4K at 30fps and 8mp still photos, built in Wi-Fi to replay your moments and double check on depths and time you were underwater, and a 204 degree wide angle lens that will put most action camera lenses to shame. The camera also comes with an attachable pistol grip to hold the camera more steadily, and will make you feel like you are in a Sci-Fi movie on your next dive.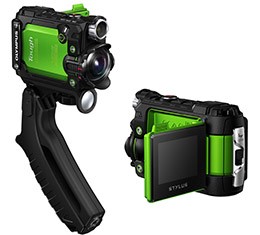 You can find a detailed breakdown of the Olympus TG-Tracker here.
Which Action Camera is on your wish list? Do you think Gopro has finally met its match?
Feel free to leave a comment on what you think about these awesome action cameras.
Thanks to Diploma Student Patrick for sharing his top action camera picks with us!