A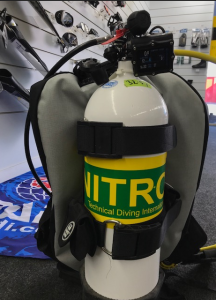 s a diver you know that you are limited on bottom time due to the Nitrogen we breathe in.  When diving 16 metres or shallower, you can stay for up to an hour if you have enough air.  But go a little deeper and your bottom time is reduced dramatically.
Well why not extend your bottom time by using Enriched Air Nitrox?  With more Oxygen and less Nitrogen, you get longer under the water as long as you take enough gas with you.
The PADI Enriched Air Diver course is PADI's most popular specialty scuba course. Why? Because scuba diving with enriched air nitrox gives you more no decompression time, especially on repetitive scuba dives. If staying down longer and getting back in the water sooner sounds appealing, then don't hesitate to become an enriched air diver.
You'll learn why diving with air that has higher oxygen and lower nitrogen content gives you more bottom time, along with enriched air equipment considerations. During a practical session, and two optional (or required) scuba dives, you'll:
Discuss managing oxygen exposure.
Practice analyzing oxygen content in your scuba tank.
Set your dive computer for diving with enriched air nitrox.
You will then need to come for 2 fun dives with your instructor, (what a shame), so they can sign you off.

The PADI Enriched Air Nitrox specialty also counts towards one of the 5 PADI specialties you need to gain the Master Scuba Diver qualification.
Spend $100 in store this month to go in to win an Enriched Air Course!