William Trubridge is a special sort of man. I bet some of you will think he is insane, which maybe he is – and others will think he is amazing. The things he can do with his body, most of us would never dream of trying. His personal best stationary breath hold is 7 minutes 29 seconds - this is massive! Most people would be able to hold their breath for a couple of minutes, max. He has 16 World Records in 2 disciplines and continues to break his own World Records. This man is tough to beat, no one even comes close.
Watch this incredible video of Trubridge as he sets his 101m record in 2011. See if you can watch it without subconsciously holding your breath!
William Trubridge is going to try  to break his own World Record of 101m againf this month, on the 21st of July at 7.40am on TV One. The record will be attempted at Dean's Blue Hole, in the Bahamas. The blue hole is the deepest salt water hole known which starts below sea level and goes down to 202m. He was the first person ever to freedive this site in 2005. Trubridge will do this freedive on a single breath, using no fins and without pulling himself down the rope! He can only hold the rope to stop the descent and start the ascent.
Constant weight without fins is the most challenging free diving discipline because of the effort your body needs to swim without assistance. This is not an easy task he is trying to complete. It's cold and dark down there, and the pressure exerted from the overhead water is crushing his lungs. His heat slows and his mind will be blurry, but through a lot of training his body can overcome these issues.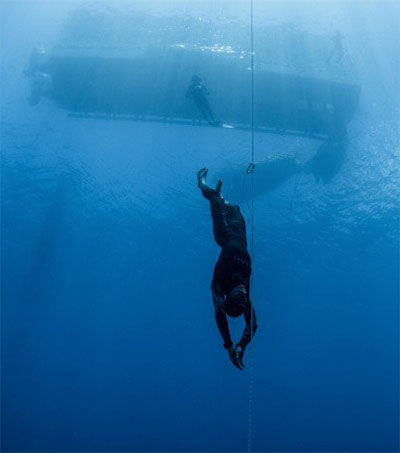 The record that currently stands has not been broken since 2010, and was set by him. The last time he tried to break his own World Record he didn't quite make it. Trubridge passed out 12m below the surface and the safety divers had to grab him and pull him up. He was disappointed with himself for not breaking his record. However we all wish him luck later this month!
To find out more about the wonder that is William Trubridge, you can visit his website, here.
If you would like to learn the theory behind breath holding, take a look at our freediving courses!
Get in touch with the team at Dive HQ Christchurch to find out more! Call us on (03) 379 5804, or email us at sales@diveskiworld.co.nz