Split Fins or Blade Fins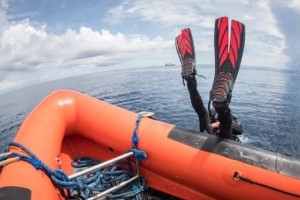 The design itself is meant to channel the right amount of water with each kick behind you to propel you forward and allowing extra water to slip through the split to ease the strain and work load on the ankles, shins and all other muscles involved in the desired kicking style. The atomic split fins are great for those people that can be exasperated and tired with a stiffer more cumbersome blade fin or for those with lower limb injuries.
Ever dropped a fin while gearing up? Don't panic these are a fraction positively buoyant and so, no more feeling around on the bottom groping for your fins in the kelp!
 The Atomic split fins come in a range of colours, with the options of rubber or stainless-steel fins straps.
Features include:
Less Drag, More Thrust, Less Strength is Used
Latest Technology in Composite Plastic Polymer Materials
Light Fin (Great Travel Fin)
Increases Thrust and Reduces Fatigue
EZ-LOK Squeeze-Style" Quick-Release Buckles
EZ-LOK: Snap-On-and-Off with Ease, Will-Not Disengage- Accidentally
Rubber Straps with Large Pull-Tab for Easy Donning and Doffing
Flexibility and Rigidity for Efficient Propulsion
Less Air Consumption
Power Rails: Backbone of the Split Fin, Highly-Resilient, Storing and Releasing Energy with Every Kick
Semi-Ridged Flex Battens: Control the Precise Wing Shape to Optimize Thrust and Reduce Drag
Large Surface Area Blade Improves Pivoting, Turning and Alternate Kick Styles
Thin, Yet Strong and Highly Flexible Hinge Points Cause Blade to React Quick-and-Efficiently
Anatomically Contoured Foot Pocket Designed to Fit Foot without Stress Points
Semi-Open Toe for Added Comfort
Internal Sole Plate, Ridged Platform Beneath-the-Foot, Greater Power Transfer to the Blade
Soft, Comfortable Open Heel Foot Pocket
Sizes: Small, Medium, Large or X-Large
Spend $100 in store anytime during December to go into the draw for some awesome fins!