PADI Rescue diver
Scuba diving is a great sport and like any activity it is not without its risks, and that is what attracts some divers. Other divers pick up the sport for the weightlessness, to see the beautiful marine life, or as an added activity for their vacations. These are all great reasons and they bring a lot of value to our lives as well as make for fun stories of adventure.
Learning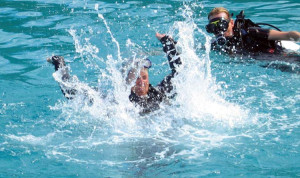 how to dive encompasses a whole range of skills and advances your abilities in many ways. Your initial step into the world of diving as a PADI Open Water diver touches briefly on safety, and managing the risk factors we all face as divers. Along with teaching you how to dive. The certification following falls under the PADI Advanced Open Water diver- this is a course geared towards advancing your skills as a diver (surprise surprise). The next step up in your PADI adventure is then a PADI rescue diver course.
Becoming a PADI Rescue Diver brings many benefits, and is the course put in place to further outline safety concerns when diving and to delve deeper into the concept of risk management.
Like all sports or activities, people gain a level of comfort with time and experience, and many times right after that comes complacency. We often read of people tramping that ventured beyond their ability to navigate back, or failed to bring enough water, food, or protective clothing. They may have also not paid attention to the weather and now find themselves in a pretty sticky situation and in need of rescue.
Stepping up to become a PADI Rescue Diver can sound like a daunting task – but nearly anyone can do it. Learning how to manage accidents can have a hugely positive impact on more than one diver. Challenging and rewarding are the 2 words commonly used to describe the PADI rescue course. Expanding your diving knowledge and experience level will give you the confidence and dive ability to not only consider the safety of yourself, but other divers too.
Coming back to the analogy of the tramper, becoming a rescue diver will take you to the next level of experience. You'll know how much food to bring, what protective clothing to wear and always know to keep a keen eye on the weather. By the end of your PADI Rescue Diver course you'll have a sound knowledge of basic first aid, b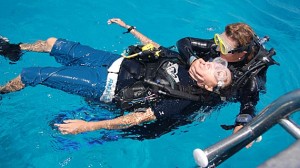 e able to provide life support in and out of the water, understand how to recognize stress and be able to manage dive emergencies.
Just do it! The rescue course is serious – but also a hell of a lot of fun. Your confidence will grow right along with your abilities as a diver. And to make things even more tempting, you have a chance to WIN a full PADI Rescue Diver course with Dive HQ from the 1st of January. No excuses now.
Once you've finished your Rescue Diver course, you may decide that now is a good time to change your life and turn your love of diving into a career. The next step up the PADI ladder is into the PADI Pro realm, maybe even becoming a Divemaster is on the cards? See you in the water!
Spend $100 in store to win yourself a Rescue course during the month of January!