I never realised that a hobby would take over my life and become a passion… some say an obsession! I was always unsure about my career after finishing school and after muddling my way through university, I decided to enrol on a scuba dive instructor course at one of the local dive stores in Palmerston North. It changed my life.
Over the past 24 years as a PADI Instructor I have been able to share my passion with over 2500 students from swimming pool experiences to certifying as a speciality instructor.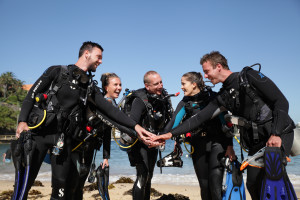 It is such a buzz when you catch up with someone you taught 20 years ago and you can see where the underwater world has taken them, compare stories and talk about great dive locations.
Thankfully I found scuba diving early in my career so I have been able to learn many things and I am still learning now; – I am currently completing courses as a student to build my knowledge and keep my enjoyment and passion alive.
You too can love your adventurous life and become a divining instructor with Dive HQ Christchurch. Enrol now in the Diploma in Professional Scuba Instruction, starting August 2022 and February 2023 and find your way in life, having fun, meeting great people and diving.
There are so few industries where your hobby is genuinely your work. It's such a thrill to be paid for something you truly love
So pop into the shop, have a chat and see where scuba diving can take you.