Since the beginning of the dive season, my eye has largely been drawn towards the simplicity and freedom of spearfishing. A lot of my spare time has been spent researching spots, looking over marine charts, researching gear, and of course, getting in the water!
This particular journey took me out to Akaroa on the inside of the harbour.
Opting for a shore dive this time around, my dive buddy and I started the swim out to the area of rocky reef where we'd previously scored a feed. The first half hour or so provided us with plenty to see, but not a lot to bring home. Lots of Moki were spotted, but none that would have surpassed the legal catch limit of 40cm. Thankfully, this wasn't the story for the rest of the day.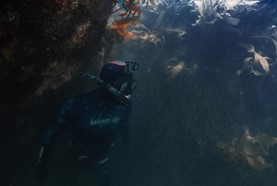 Hunting the relative shallows, between 5-7 metres, I managed to secure my first fish, a butterfish measuring just shy of 60cm (still my personal best for this species).
Next up came a much more surprising catch for the area, a decent sized Kahawai. Luck was undoubtedly on my side with this shot, as I'd descended almost directly on top of the fish, which was sitting in about 9 metres of water.
Despite only having an additional 5cm of length over the butterfish, the Kahawhai put up a much greater fight, something I wasn't used to for a smaller fish.
Nevertheless, I hauled it to the surface and secured the catch. It was good timing, as a large short-tailed stingray cruised up to me, looking for a free meal!
The evening was drawing to a close so my buddy and I decided we would aim for one more fish each then call it a night. I dropped down into some deeper water, surrounded by long kelp strands, and sure enough locked eyes with a school of Blue Moki. Lining up the biggest of the bunch, I took my shot, and added that to the days catch as well.
With the head Torches on, we cooked up a feed and packed up our gear, and after marking out the spots for next time, headed home for a well-deserved rest.