How would you react if…
Another diver was stressed and panicking? 
You or another diver were very low in air?
Or if you found an unresponsive diver? 
There are many important skills to know and practice in order to best manage dive emergencies.  This course could help you save your own or another diver's life!
Why do a Rescue Course?
The PADI Rescue Diver course is aimed at divers who are looking to build confidence in their diving by developing the skills to prevent and respond to diver emergencies in the water. By learning and practicing problem solving skills you will become a better buddy and have the ability and self assurance to assist with arising issues. The course is run over two days (usually consecutive) and is often referred to by divers as the most challenging, yet most rewarding course that they've ever taken.
What do you learn during the Rescue Course?

The Rescue Diver course prepares you to deal with dive emergencies, minor and major, using a range of techniques. Knowledge developments and rescue exercises give you the knowledge of what to look for and how to respond. Rescue Scenarios then give you the opportunity to put into practice and apply the skills and techniques learnt. The subject is serious but the course is fun! The main topics include self rescue, recognizing and managing stress in other divers, emergency management and equipment, rescuing panicked divers and rescuing unresponsive divers.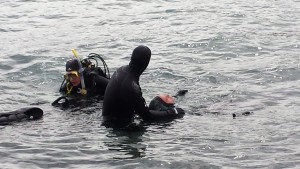 Who can enrol in the PADI Rescue Diver Course?
To enrol in the PADI Rescue Diver Course there are a small number of pre-requisites. You must be at least 12 years old and have a certificate in Workplace First Aid and CPR or equivalent. Finally you must also have completed the Underwater Navigation adventure dive or equivalent from another training organisation.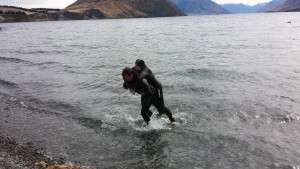 How is the Course Structured?
The Outline of the course is very straight forward and synchronised. When you enrol you will be issued with your own rescue diver Manuel. Throughout the book there are a number of chapters, each with its own knowledge review questionnaire required to be filled out before the course commences, these will be discussed and reviewed as a group. Once in the water, on day one you will practice individual skills and responses to situations, so that they become second nature. On day two the in water skills will be revised before taking part in rescue scenarios. This is where you bring the knowledge and skills learnt together to effectively respond to a range of different settings. Taking the lead in the response and also assisting another responder in scenarios offers an experience that will build your confidence and approach to diver safety.

What are the course costs?
The cost of the course is $599. This includes manuals, certification, rescue slates, complimentary transport, dive cylinders and air, four open water dives. Additional materials that individuals are required to have for the course include a safety sausage and pocket mask.
Diver Safety is Important
We make sure that the course being taught is the most up to date and revised available. Diver safety is of the upmost importance and therefore the PADI materials used and techniques taught are current and provide the best rescue education.
Become a Rescue Diver!
Enroll today to complete this very rewarding course, in which you will gain skills that will stay with your diving adventures for life.  The team at Dive HQ Christchurch Dive Shop, are happy to let you know more about the course, just pop into the shop or get in touch with us at:
Dive HQ Christchurch
103 Durham St South
Sydenham
Christchurch 8023
Ph 03 379 5804
www.diveskiworld.co.nz